Financial Services
Consumer Wire Transfer Services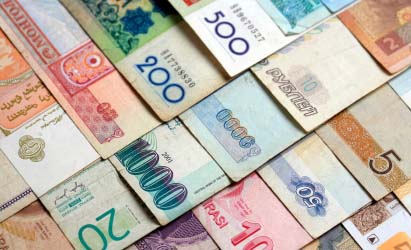 Positive identification of high risk financial services consumers through iris biometrics is the most productive means of preventing financial fraud. For example, international money transfers, while highly popular, are one of the most susceptible financial transactions in the industry. Smart and honest people often fall victim to identity fraud scams, which can be quite sophisticated in their design.
Iris recognition solutions, which are both fast and hands free, assure the identity of both the sender and receiver of the transfer, virtually eliminating the chances of a fraudulent transfer due to a scam or identity theft.
Legitimate customers themselves appreciate the added security of a biometrics based authentication solution. They also receive the added benefit of a faster and streamlined verification process, generating loyalty to the institution and follow on business.
Physical Access Control in Financial Institutions
Like enterprise and governmental application of biometrics to physical access control challenges, the banking and financial services industry employs biometrics to secure both tangible assets such as safes and safe deposit box facilities and intangible assets such as operations center, data centers and IT system control rooms. Iris biometrics is more resistant to false matches, also known as false accepts, than any other real time biometric, and thereby virtually eliminates the possibility for an intruder or imposter to gain access. Biometrics also provide a positive identity trail of who gained access and when, for both investigation and auditing purposes.
ATM's
Biometrics are now commonly used to prevent fraud in Automated Teller Machines (ATM) transactions in many parts of the world. In some countries, banks are now responsible for reimbursing all customers for fraudulent transactions, while in others, banks require biometrics for authentication of very high value withdrawals. Banks have also regularly demonstrated that biometric authentication at ATM's have very high ROI's.
Iris biometrics lends itself very well to deployment in kiosk configurations. Iris can be touchless and hands free, and can operate at the appropriate distance from subject to device for a traditional ATM system. Iris is also fast and easy to use for acclimated subjects, such as repeat ATM users.
Transaction Authentication at Teller Station
Similar to ATM fraud prevention, providing positive identity assurance for large transactions at live teller stations will greatly lower risk of losses due to identity theft. In this environment, iris recognition is similarly easy to use, and offers positive identity confirmation and audit trail of each individual transaction.